Have Zomboo in Your Area!
This Week's Movie
March 8th, 2014 - 11:35pm PST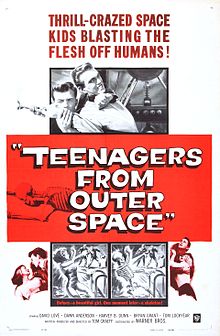 Teenagers From Outer Space Teenagers From Outer Space was released in 1959. A bunch of evil teenagers from guess where? You got it; outer space try to conquer Mother Earth by blasting men, women, and dogs with their flashlight ray guns. But one of the teenagers goes sappy and tries to persuade the others to look for another planet to conquer when he discovers intelligent life in the form of Sparky, the dog. The evil teenagers also bring along the Gargon, a shadowy lobster creature, who likes to dine on humans. Teenagers From Outer Space stars David Love, Dawn Anderson, Bryant Grant, and Harvey Dunn.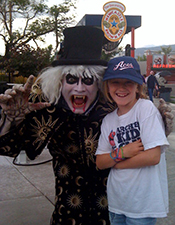 A Fan

Want to be Fang of the Week? Send us your photos with Zomboo to zomboo@zomboo.com


Welcome to Zomboo's House of Horror Movies! Zomboo is (nearly) world-famous for bringing some of the most terrib... er... I mean scaaary movies ever made into your home.

Every week a different movie is broadcast so check back often to see what will be filling the airwaves this weekend.
Click the Rack Girl!



2010 Zomboo Promo!


As Seen On


Saturday Night 11:35am





Mini-Z thinks webcomics are cool! Go see one of his favorites!